Outline and names of areas
G Suite(formerly Google Apps) Gmail provides a "Contacts" function that is the same as a personal address book. This section will explain how to use the Contacts function.
Clicking "Contacts," which is always shown on the left side of your screen, will allow you to edit your contacts. (Fig. 1)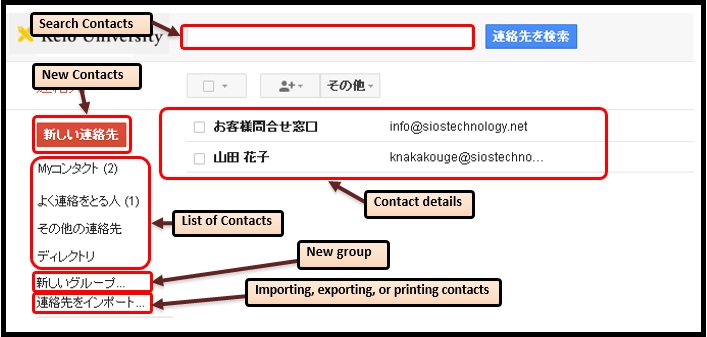 Fig. 1 Contacts
Details of each function are explained on the following pages.
The main display frame for Contacts contains the following.
"List of Contacts" -- Displays My Contacts, Groups, Frequently-contacted people, and Other Contacts Displayed on the left of the screen.

"Contact details" -- Displays details for the selected Contact.
Continue to explanation about Adding Contacts.
Return to Google Contacts Users Manual for explanations about other features.
Last-Modified: November 2, 2016
The content ends at this position.