Login as a guarantor
A. How to log in
Open the login page using the browser.
http://keio.jp/
Enter the user ID (guarantor ID) and password.
| Form | Format | Example |
| --- | --- | --- |
| User ID (guarantor ID) | The guarantor ID notified via the postcard | 99999999@gr |
| Password | The password set to the entered ID. | Ju92#1515Yo |
After correctly entering them, click on the [Login] button.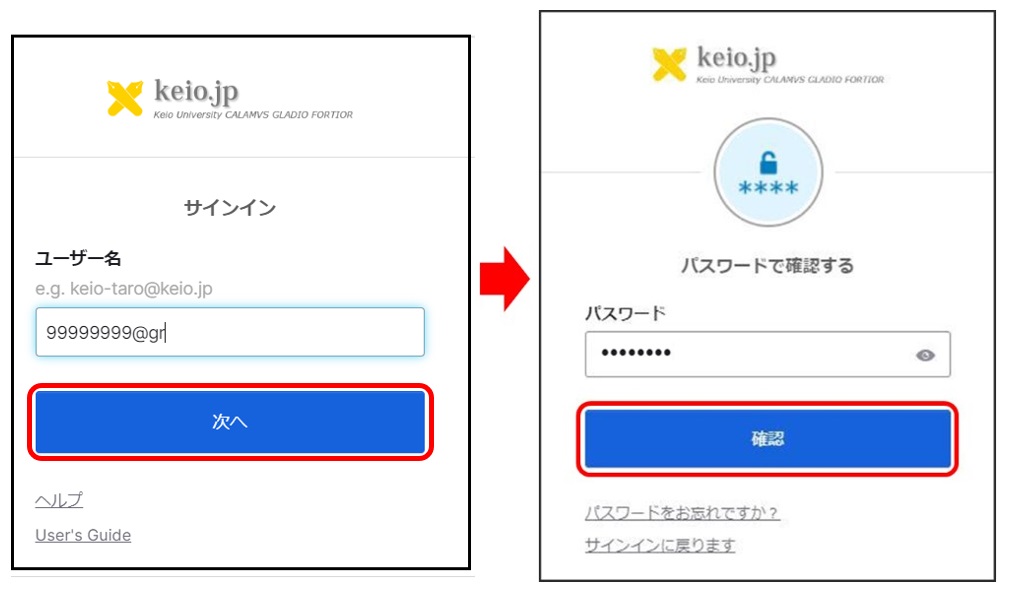 B. If unable to log in
If you failed to log into the system due to the wrong ID or password, an error is indicated as a red line under the ID / password input fields. Check the following points.
Both user ID (guarantor ID) and password are correct.
The domain part (e.g. xxxx@gr) is included in the user ID (guarantor ID).
Only single-byte characters are used for both user ID (guarantor ID) and password. Check if there is any double-byte character.
The domain part of the user ID (guarantor ID) is "gr".
Check that the Caps Lock or Num Lock key is not enabled on the keyboard.
You might have registered the password with the Caps Lock key turned on during the activation.
If the problem still cannot be fixed, follow the procedure for [Forgot user ID] and [Reset password], and re-enter your ID and password.
C. How to delete the browser's cache
When the browser's cache is not empty, the following error dialog may appear and you cannot log in.
"You are logged off because no operation has been done for a certain period of time."
"An unexpected error occurred."
If this failure occurs, see [ How To Clear the Browser's Cache and Other Records].
D. Contact information

See the contact information written in the [Information for Guarantors].

Last-Modified: February 26, 2019
The content ends at this position.