keiomobile2/eduroam Certificate Renewal
If you are using the Wi-Fi connection service (keiomobile 2 / eduroam) using the keio.jp account, you will be asked to trust the certificate again when you connect after 09:00 on March 4, 2020.
Host name: wrcore2.itc.keio.ac.jp
Expires: March 29, 2022
Issued by: National Institute of Informatics
If you are asked to confirm your certificate, please check the fingerprint.
Fingerprint
SHA256
26:5D:07:80:E3:BE:D1:E7:54:29:ED:05:30:CD:3C:F8:37:88:74:15:4E:74:AF:F7:0E:E7:BC:53:DD:C0:EF:A5
SHA1
1D:C9:1E:CE:92:0F:70:77:CC:EF:9C:EF:40:F0:17:99:AF:2A:49:B0
You can trust this certificate as a certificate for Wi - Fi connection service.
iOS(iPhone)場合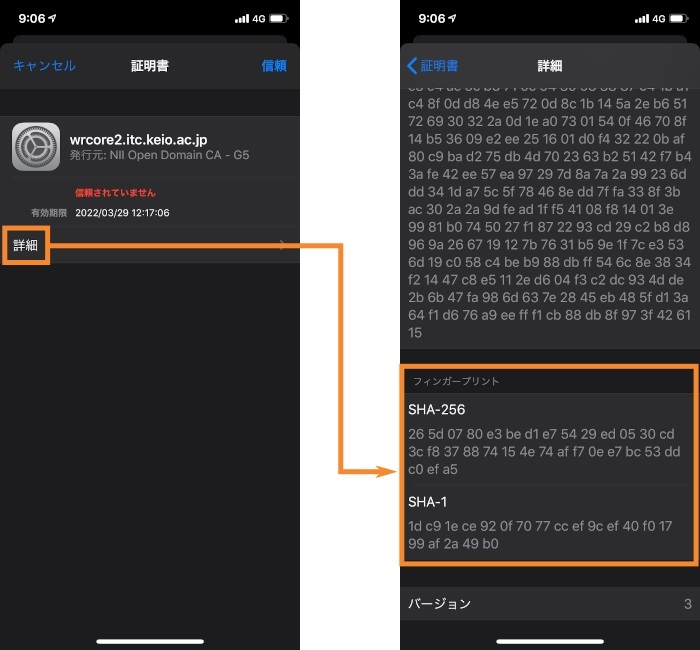 Windows 10 場合
When asked for user name and password
Please revise wireless LAN connection settings. Procedure for revising wireless LAN connection settings
Last-Modified: March 5, 2020
The content ends at this position.